2024 Honda Ridgeline: Release Date, Price, and Specs [Updated]
The 2024 Honda Ridgeline is a mid-size pickup Truck. It is the best pickup truck. For example, it ranks first in the mid-size pickup Truck segment. Its big rivals are the Toyota Tacoma, Chevrolet Colorado, and Ford Ranger, which ranks behind the Honda Ridgeline. The Honda Ridgeline is one of the best mid-size pickup trucks.
The Currently available 2023 Honda Ridgeline is a part of the Second generation Ridgeline that was introduced first in June 2016 for the 2017 Model year, and after that, it continued in the Automobile market. And also, it has gotten a mid-cycle refresh in 2021. and after that, Honda carried it over for the following Model years.
Read Also- Know everything about its big rival, the 2023 Toyota Tacoma.
The Honda Ridgeline has a more powerful V6 engine that generates a power output of 280 HP. This Honda Ridgeline pickup truck can tow more Towing capacity. It also comes with an all-wheel drive drivetrain.
So if you want to know everything about the new Honda Ridgeline, you must read this article until the end. Because in this article, we will learn everything about the new Honda Ridgeline. Like the 2024 Ridgeline Redesign, Release Date, Pros & Cons, Price & Trims, and more critical information about it.
2024 Honda Ridgeline Redesign
According to media reports and Automotive news reports, it is likely that Honda Ridgeline will get an entirely new TrailSport trim as the third generation of Ridgeline, which will have off-road capability. And also, Honda has confirmed that the first off-road TrailSport Ridgeline will come for the 2024 model year.
But its other previous trim is expected to be carried over for the next 2024 model year, which is a part of the second generation which was introduced for the 2017 model year.
And also, Automotive News Media says that the next Honda Ridgeline is expected to get a refresh for the 2024 model year. But it will not likely be redesigned for the 2024 model year. Automotive News says that it could get a complete redesign for the 2028 Model year.
Read Next- Honda is Going to Redesign its Passport.
2024 Honda Ridgeline Release Date
The New Honda Ridgeline is expected to be available in Fall 2023 for the 2024 model year. However, Honda has not confirmed its exact launch date for the 2024 model year. But according to media reports and expectations, it could likely be available in Fall 2023 for the 2024 model year.
However, we will update this article as soon as possible when Honda Ridgeline will be available for the 2024 model year. So if you want to get the latest updates and notifications from SuvBazar.com, you must Follow us on Twitter and Facebook.
2024 Honda Ridgeline Pros & Cons
Pros
Superior Ride and Handling
Spacious Crew Cab
Strong V6 Powertrain
Cons
No Hybrid Trim is expected
Less Towing Capacity compared to its rivals
2024 Honda Ridgeline Price and Trims
Right Now, Honda has not yet declared the exact Price for the Next Honda Ridgeline. But the 2024 Ridgeline Price could likely start at around $40,000 for its base trims.
However, the 2023 Honda Ridgeline is offered in four trims- Sport, RTL, RTL-E, and Black Edition. So we expect the Next Honda Ridgeline to be provided in Five frames after including its all-new TrailSport trim. Here we have given its all-trims prices below based on the 2023 model-
| | |
| --- | --- |
| Trims | Price (Est.) |
| Sport | $40,000 |
| RTL | $43,000 |
| RTL-E | $46,000 |
| Black Edition | $48,000 |
| TrailSport | $52,000 |
Honda Ridgeline 2024 Price
Read Next- View the price of the new 2024 Honda Prologue
2024 Honda Ridgeline Interior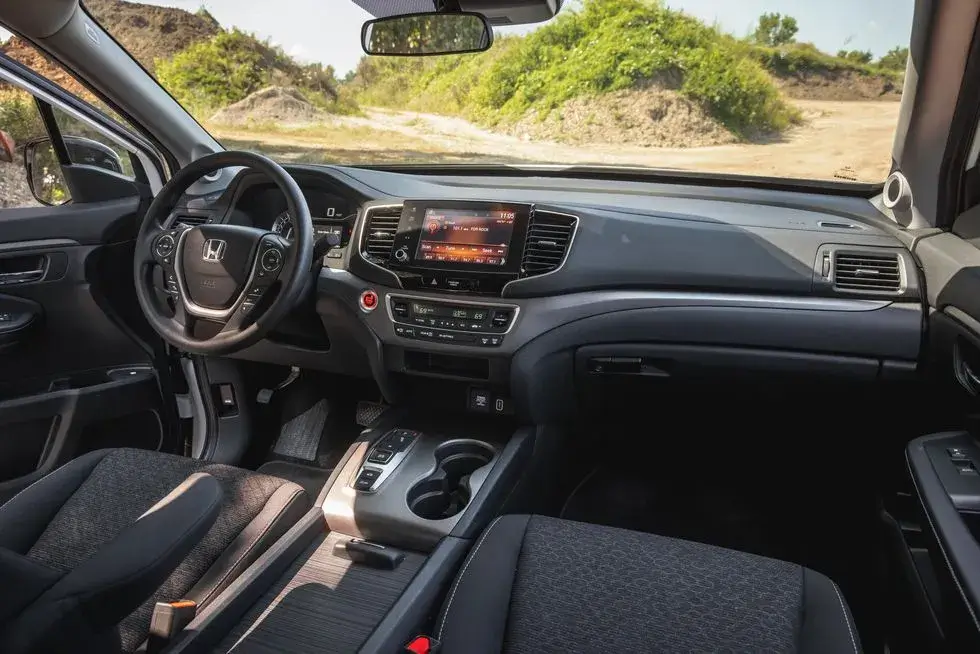 The highly anticipated 2024 Ridgeline is a pickup truck that excels in performance, style, and comfort. One area where Honda has made significant improvements is the interior, aimed at providing a unique driving experience.
The cabin of the Honda Ridgeline 2024 offers more room and comfort compared to its predecessors. Premium materials envelop the seats, with power adjustments and heating and cooling functions for the front seats. Passengers in the rear enjoy increased legroom and headroom. Redesigned seats ensure better support and enhanced comfort during long drives.
Honda has given the dashboard of the 2024 Ridgeline a significant overhaul, resulting in a sleek, modern, and aesthetically pleasing design. The center console has been repositioned for better accessibility and ease of use. The infotainment system is now more comprehensive, featuring a high-resolution touchscreen that is highly responsive and user-friendly. It includes Honda's latest software, incorporating navigation, Apple CarPlay, and Android Auto.
Additionally, the 2024 Ridgeline boasts a premium audio system, offering an available 10-speaker setup that delivers exceptional sound quality. The truck also comes equipped with various advanced safety features, such as adaptive cruise control, lane departure warning, and blind-spot monitoring, all contributing to enhanced driver confidence and safety.
Read Next- View the Amazing Interior Design of the new Hyundai Ioniq 7.
So Honda Ridgeline 2024 interior represents a substantial improvement over its predecessor, featuring modern design elements, premium materials, and advanced features that provide exceptional comfort and convenience. This truck is poised to impress both drivers and passengers, positioning itself as one of the most sought-after pickups on the market.
Read Next- KNow everything about the 2023 Hyundai Palisade
2024 Honda Ridgeline Engine, Power, Performance
The powerful 2024 Ridgeline pickup truck handles various driving conditions with ease. Its robust powertrain delivers impressive performance and efficiency.
Under the hood, the Ridgeline boasts a 3.5-liter V6 engine, generating up to 280 horsepower and 262 lb-ft of torque. The engine pairs seamlessly with a nine-speed automatic transmission, ensuring smooth and precise shifting for a comfortable and enjoyable driving experience.
While front-wheel drive comes standard, the all-wheel-drive option is available for those seeking enhanced control and capability. With the all-wheel-drive system, up to 70 percent of the engine's power can be sent to the rear wheels, providing exceptional traction and stability on rough terrain or during challenging weather conditions.
The Ridgeline's powertrain also prioritizes efficiency, achieving an EPA-estimated fuel economy of up to 24 mpg on the highway. This efficiency is achieved through advanced features like direct fuel injection and variable valve timing, optimizing the engine's performance and fuel efficiency.
In summary, the 2024 Ridgeline's powertrain is a versatile and well-rounded package, offering impressive performance, efficiency, and capability. Whether it's daily commuting or tackling rough terrains or heavy loads, this pickup truck is designed to handle it all with confidence.
Read Next- Know about the 2023 Chevy Colorado Pickup truck.
2024 Honda Ridgeline Towing & Payload Capacity
The Ridgeline's powertrain also features advanced features, such as an Eco mode that adjusts the engine's performance to maximize fuel efficiency. Additionally, the Truck has multiple towing and hauling capabilities, with a maximum towing capacity of up to 5,000 pounds and a payload capacity of up to 1,580 pounds.
2024 Honda Ridgeline MPG
More information about the Honda Ridgeline Fuel economy, Safety, and tech features are not released officially by Honda For 2024 MY. The last year 2023 Honda Ridgeline, gives good fuel economy. For example, it provides a fuel economy of 18 MPG in the city and 24 MPG on the highway. So we hope the new Honda Ridgeline will have the same or improved fuel economy for 2024 MY.
Read Next- View the Best and Worst Years for the BMW 3 Series.
2024 Ridgeline Range
The currently available 2023 Ridgeline has a fuel tank capacity of 19.5 gallons. So it will likely Range 350 miles on a single full fuel tank. But also, it is essential to note that its full tank fuel range can vary according to various factors like engine conditions, driving conditions, road conditions, weather, driving style, traffic, driving modes, and many more factors.
2024 Honda Ridgeline Safety Features
Honda has made the Ridgeline a popular pickup truck, renowned for its versatility, comfort, and reliability. In recent years, significant improvements to the safety features have elevated the Ridgeline to one of the safest trucks in the market.
The new Honda Ridgeline boasts the Honda Sensing suite of driver-assistive technologies as a crucial safety feature. This suite incorporates various elements, such as lane departure warning, adaptive cruise control, forward collision warning, and automatic emergency braking. These features actively work together to keep drivers alert and proactively prevent accidents.
Another essential safety enhancement is the Advanced Compatibility Engineering (ACE) body structure found in the Honda Ridgeline. It is specifically designed to evenly distribute crash energy throughout the vehicle, thereby reducing the risk of injury to passengers in the event of an accident. Additionally, the Ridgeline is built with a high-strength steel frame, providing added protection during collisions.
Furthermore, the Honda Ridgeline includes several passive safety features that enhance passenger protection. These include side airbags, front airbags, and side-curtain airbags. Moreover, the Ridgeline boasts a reinforced cabin, offering an extra layer of safeguarding during a rollover.
With its advanced safety features, the new Honda Ridgeline stands as a safe and dependable pickup truck. Whether you're transporting cargo or taking your family on a road trip, you can confidently trust the Ridgeline to prioritize the safety of you and your passengers.
2024 Honda Ridgeline Infotainment and Connectivity Features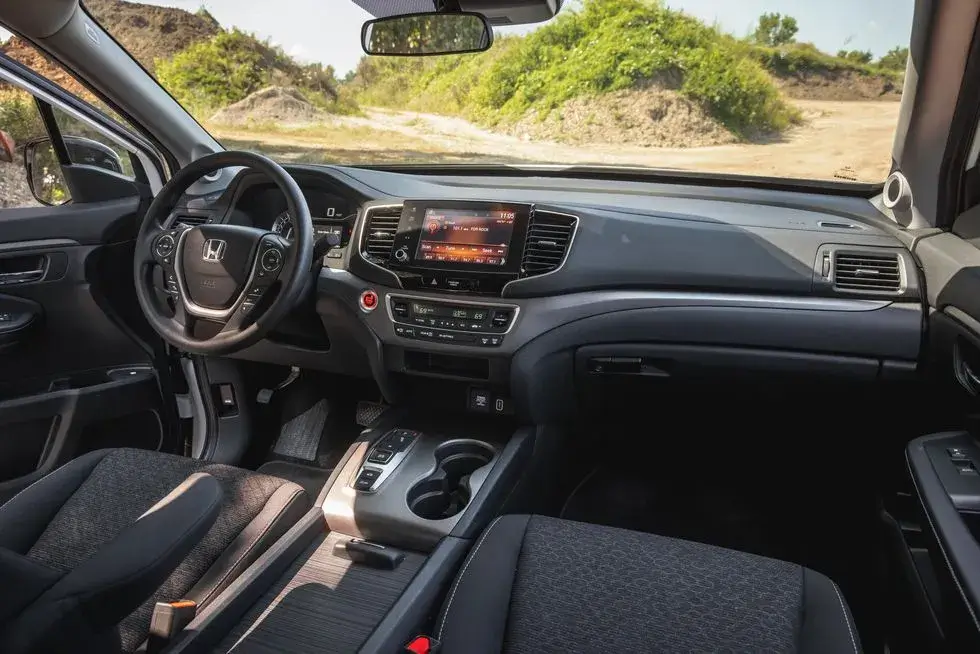 Enhance your driving experience with the 2024 Ridgeline, as it ensures seamless connectivity and entertainment on the road through its cutting-edge technology.
One remarkable feature of the Ridgeline is its intuitive touchscreen infotainment system. Boasting a sizable high-definition display, the system provides crisp and clear visuals, making navigation through various functions effortless. Accessing favorite apps, streaming music, and making hands-free calls become a breeze with the user-friendly interface, putting everything at your fingertips.
The Ridgeline goes a step further by offering Apple CarPlay and Android Auto integration, enabling seamless smartphone connection and direct access to favorite apps through the infotainment system. Control various functions using voice commands or the touchscreen, ensuring a safe and convenient driving experience.
Moreover, the 2024 Ridgeline comes equipped with an advanced navigation system, providing real-time traffic updates and turn-by-turn directions to help you reach your destination effortlessly, even on unfamiliar routes.
Connectivity is also a top priority in the Ridgeline, with multiple USB ports and Bluetooth connectivity. Stay connected and charge your devices on the go, seamlessly pairing your smartphone with the truck's infotainment system for hands-free calling, music streaming, and access to your phone's contacts and messages.
In the pickup truck segment, the Honda Ridgeline 2024 sets a new standard for infotainment and connectivity features. With its intuitive touchscreen, seamless smartphone integration, and advanced navigation system, the Ridgeline ensures a connected and enjoyable driving experience. Whether embarking on a long road trip or navigating through daily commutes, the Ridgeline keeps you entertained and connected every step of the way.
2024 Honda Ridgeline Features
The Honda Ridgeline is a popular sports mid-size pickup truck with many standard and optional interior and exterior features. so here we have its best and most impressive features below in the list-
Touchscreen display with the latest infotainment system
Premium Audio sound system
Bluetooth Hands-free link
Bluetooth Streaming audio
Radio Data system
Apple CarPlay and Android Auto compatibility
Hondalink
SMS Text Massage Functions
Wireless Phone Charges (only standard on top trims)
Tri-zone Automatic climate control system
LED Ambient lighting on top trims
Multi-functional center console
2024 Honda Ridgeline Colors
Honda offers eight exterior color options with Ridgeline. We have given all exterior colors that come with the 2024 Ridgeline below in the list. And We hope Next Honda Ridgeline will have the same exterior colors-
Crystal Black Pearl
Lunar Silver Metallic
Modern Steel Metallic
Obsidian Blue Pearl
Pacific Pewter Metallic
Platinum White Pearl
Radiant Red Metallic
Sonic Gray Pearl
2024 Honda Ridgeline Specs
| | |
| --- | --- |
| Trim | Sport |
| Model | 2024 |
| Body Type | Pick-up Truck |
| No. of Doors | 4 Doors |
| Seating Capacity | 5 Passengers |
| Towing capacity | 5000 lbs |
| Engine | 3.5L V6 Engine |
| Power | 280 HP |
| Torque | 262 lb-ft |
| Transmission | 9-Speed Automatic |
| Drivetrain | AWD |
| 0-60 MPH Time | 6.3 seconds |
| Top Speed | 130 MPH |
| Full Tank Fuel Range | 350 Miles |
| Official Website | Honda |
Honda Ridgeline 2024 Specifications
2024 Honda Ridgeline Dimensions
| | |
| --- | --- |
| Length | 210.2 In. |
| Width | 78.6 In. |
| Height | 70.8 In. |
| Wheelbase | 125.2 In. |
| Ground-Clearance | 7.64 In. |
| Curb-Weight | 4510 lbs |
New Honda Ridgeline Exterior Dimensions
2024 Honda Ridgeline Interior Dimensions
| | |
| --- | --- |
| Head-Room (Front/Rear) | 40.1 in / 38.8 in |
| Leg-Room (Front/Rear) | 40.9 in / 36.7 in |
| Shoulder-Room (Front/Rear) | 62.0 in / 61.5 in |
| Hip-Room (Front/Rear) | 59.1 in / 56.6 in |
| Passenger Volume | 109.7 cu ft. |
| Cargo Volume | 34 cu ft. |
New Honda Ridgeline Interior Dimensions
2024 Honda Ridgeline Review Video
Conclusion
This article taught us about the new Honda Ridgeline Redesign, Release Date, Pros & Cons, Price & Trims, Engine, Power, Performance, Interior, towing and payload capacity, and other important information. We hope this article will be helpful for you. If yes, then you must share it with your friends and family. Thank you.
FAQs- The New Honda Ridgeline 2024 Pickup Truck
When will the 2024 Honda Ridgeline be available?
The new Honda Ridgeline is expected to be available in the Fall of 2023 for the 2024 Model year.
How much will be the Cost of the new 2024 Honda Ridgeline?
Honda does not declare the exact pricing for the next Honda Ridgeline. But its price could likely start at around $40,000.
Is Honda going to redesign the Ridgeline?
New Ridgeline will likely get a new TrailSport trim for the 2024 model year. But it is not likely that its other ornaments will be redesigned for the 2024 model year.
Juan Vasquez, or "juantio," is an Automotive Engineer from Brooklyn with over seven years at Standard Motor Products. He's also the Chief Editor at SUV Bazar. An active member of the SMP Softball team, Juan is affiliated with giants like Siemens and Google. He's currently seeking new opportunities in automation engineering.