2024 Nissan Maxima: Release Date, Price & Specs [Update]
The 2024 Nissan Maxima is one of the most popular sports sedans released in the automotive market since 1981, which is now available in the automotive industry for the 2023 model year. And now, it is expected that it will be available to order very soon for the 2024 model year. And its next-generation Maxima is expected to come with an all-new design for the next 2025 model.
But according to some social media reports, the Nissan Maxima will take a gap for the 2024 model and may be launched in 2024 for the 2025 model year with an all-new design and new powertrains. Nissan Maxima has been in the auto market for almost 41 years and is also liked by the people.
2024 Nissan Maxima Redesign
Currently, Nissan has not released any official information regarding its availability for the 2024 model year. Similarly, there has been no report indicating its presence in the 2024 lineup.
However, from our perspective, we believe that the Nissan Maxima is unlikely to be introduced for the 2024 model year. Instead, it's plausible that the 2023 model will continue to be offered for orders throughout 2024. Regarding its design, it appears Nissan might maintain its current design since there have been no modifications over the past six years.
Considering these factors, even if Nissan were to launch the Maxima for the 2024 model year, it could potentially retain the 2023 model without alterations. This speculation arises from the anticipation that Nissan might unveil a completely revamped design as the Next Generation Nissan Maxima in 2024, slated for market availability as a 2025 model. Consequently, the likelihood of a redesign for the 2024 model year Maxima seems low.
2024 Nissan Maxima Release Date
As of now, Nissan has not released any information on the Nissan Maxima 2024 release date, or when it will be available to order for 2024. But we think Nissan will not bring the Maxima for the 2024 model year. Instead, the 2023 model will continue in 2024.
And it is expected that the next generation of the Nissan Maxima will come with an all-new design and engines for the 2025 model year. Hence it is expected that the Nissan Maxima will take the gap for 2024.
However, if Nissan releases any further information about the 2024 Maxima, we will update this article very soon. And if you want to get update notifications from us, then don't forget to subscribe and follow us on Facebook and Twitter.
2024 Nissan Maxima Pros & Cons
Pros

Attractive Looks
Top Safety rating
Powerful Powertrain
Excellent handling
Good interior

Cons

Tight Rear Seat legroom
Poor Fuel Economy
Outdated infotainment system
2024 Nissan Maxima Price and Trims
The new Nissan Maxima 2024 will have the same trim models as last year, and the price could also be the same as last year. For example, the 2023 Maxima is offered in three trims models- SV, SR, and Platinum which price starts at $38,340 for its base SV Model and goes up to $44,450 for its top trim. So here we have given all its trims and their prices below in the table-
| | |
| --- | --- |
| Trims | Price (est.) |
| SV | $38,500 |
| SR | $43,500 |
| Platinum | $44,500 |
Nissan Maxima 2024 Price
Read Next- View the Price of the 2024 Nissan GT-R
2024 Nissan Maxima Interior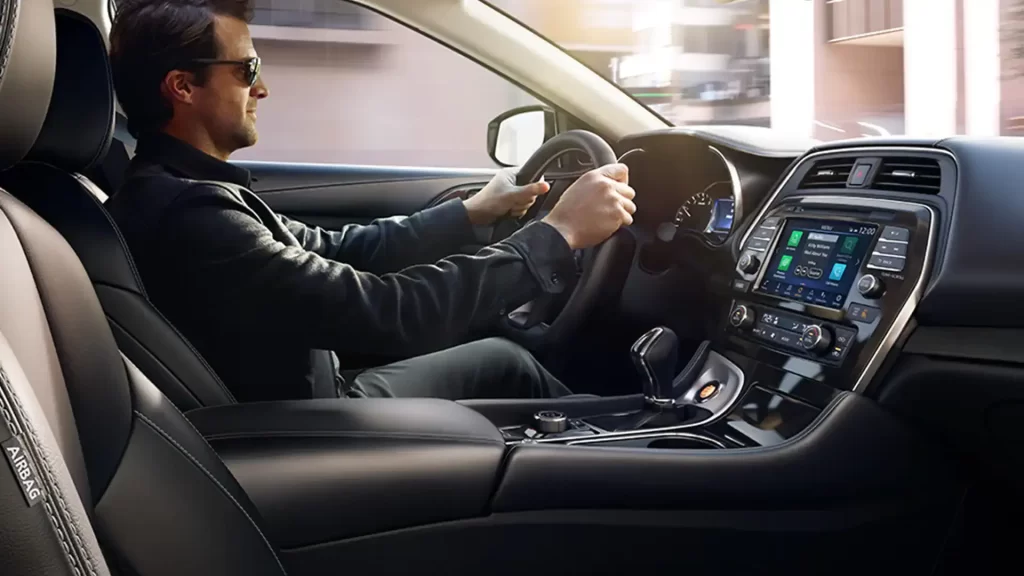 The interior of the Nissan Maxima exudes lavishness and a spacious ambiance, accommodating up to five occupants. Employing hybrid materials in its construction, the interior achieves an aesthetically pleasing appearance. While the front cabin offers a satisfactory level of space, the rear seat legroom is somewhat limited, a detail evident in the accompanying image. However, there are expectations that this aspect could see enhancements in the forthcoming generation.
The seating arrangement includes power-adjustable front seats for both the driver and passenger, offering personalized comfort adjustments. The interior is adorned with contemporary features, encompassing a 7-inch touchscreen display, a leather-wrapped steering wheel, an audio sound system, automatic dual-zone climate control, an auto-dimming rearview mirror, and a push-button start. Notably, the trunk space is commendable, allowing convenient storage for bags and suitcases. Should additional space be required, the rear seats can be folded down.
Overall, the interiors of the Nissan Maxima are imbued with a high level of luxury. However, there is room for improvement in certain infotainment systems, which have the potential to enhance safety and entertainment provisions for both passengers and drivers.
If you want to know about its interior design you should read this "2023 Nissan Maxima interior design and specs" article.
2024 Nissan Maxima Engine, Power, Torque
The 2024 Nissan Maxima continues to impress with its powerful engine and impressive performance. Building upon the success of its predecessor, the 2023 model year, the Maxima sets a high standard for full-size sedans in terms of speed and capability.
Under the hood, all trims of the 2024 Maxima are equipped with a robust 3.5-liter V6 engine. This engine delivers a commanding power output of 300 horsepower, providing ample strength for a thrilling driving experience. With 261 lb-ft of torque at its disposal, the Maxima exhibits exceptional acceleration and responsiveness, making it a joy to drive in various road conditions.
To transfer all that power to the wheels, Nissan pairs the engine with a continuously variable automatic transmission (CVT). This transmission ensures smooth and efficient power delivery, optimizing both fuel efficiency and performance. With the combination of the V6 engine and the CVT, the Maxima offers a dynamic and engaging driving experience.
When pushed to its limits, the new Nissan Maxima not only performs exceptionally well but also emits a satisfying engine note. The sound produced by the V6 engine adds to the overall driving experience, creating a sense of exhilaration and excitement. Furthermore, the Maxima's quick acceleration capability is noteworthy. It boasts an impressive 0-60 mph time of just 5.7 seconds, surpassing many of its competitors in the full-size sedan segment.
Read Next- You Should know Everything about its top Rivals 2024 Toyota Crown
2024 Nissan Maxima Fuel Economy
The new 2024 Maxima will likely to give the same fuel economy as last year. For example, Nissan has claimed that it is capable to give a fuel economy of 20 MPG in the City, 30 MPG on the Highway, and 24 MPG Combined. So this Nissan Maxima gives excellent fuel economy.
If you want to know everything about the Nissan Maxima Safety features, infotainment and Connectivity features, specs, and Dimension. You can Read our 2023 Nissan Maxima article. In which we have told Everything in detail. And we hope the all-information will be the same as the previous model year.
2024 Nissan Maxima Safety Features
Nissan Motors is likely to equips the new 2024 Maxima with a comprehensive array of Intelligent Mobility features, ensuring your safety throughout your journey. These capabilities effectively help you evade potential accidents. Below we have given its some expected safety features that could be included for 2024-
Rear Automatic Braking
LATCH and Snug Kids
Traffic Sign Recognition
Intelligent Driver Alertness
Anti-lock Braking System
Blind Spot Warning
Rear Cross Traffic Alert
Lane Departure Warning
High Beam Assist
Intelligent Cruise Control
Intelligent Lane Intervention
Intelligent Forward Collision Warning
Driving Aids
Brake Smarter
Traction Control System
Confidence-inspiring technology
Zone Body construction
Nissan Advanced Air Bag System
Automatic Emergency Braking with Pedestrian Detection
Tire Pressure Monitoring System with Easy-Fill Tire Alert
2024 Nissan Maxima Features
It is likely that the new Nissan Maxima 2024 could come with a hots of standard and optional interior and exterior features. Here we have given some expected features that is likely to come with the next Maxima-
7-inch touchscreen display
Apple CarPlay and Android Auto compatibility
Wi-Fi hotspot
Safe exit warning
Bluetooth connectivity
Music Capability
360-degree camera system
Audio sound system
Wireless smartphone charging
The robust and potent engine
2024 Nissan Maxima Specs
| | |
| --- | --- |
| Trim | SV |
| Model Year | 2024 |
| Body Type | Sedan |
| No. of Doors | Four-Doors |
| No. of Rows | Two-Rows |
| Seating Capacity | Five Passengers |
| Fuel Tank Capacity | 18.0 gall. |
| Full Tank Fuel Range | Up To 400 Miles |
| Engine Name | 3.5L V6 |
| Power | 300 HP |
| Torque | 261 lb-ft. |
| Transmission | CVT |
| Drivetrain | FWD |
| 0-60 MPH Time | 5.6 seconds |
| Top-Speed | 135 MPH |
| Fuel Economy | 20/ 30/24 MPG |
2024 Nissan Maxima Dimensions
| | |
| --- | --- |
| Length | 198.8 In. |
| Width | 73.2 In. |
| Height | 56.5 In. |
| Wheelbase | 109.3 In. |
| Ground-Clearance | 5.3 In. |
| Curb-Weight | 3716 lbs. |
Interior Dimensions
| | |
| --- | --- |
| Head-Room (Front/ Rear) | 38.9/35.8 in. |
| Leg-Room (Front/ Rear) | 45.0/34.2 in. |
| Shoulder-Room (Front/ Rear) | 56.7/55.7 in. |
| Hip-Room (Front/ Rear) | 54.2/53.5 in. |
| Passenger Volume | 110.7 cu. ft. |
| Cargo Volume | 14.3 Cu. ft. |
2024 Nissan Maxima Review
Conclusion
Hello friends, In this article, We have learned about the next Nissan Maxima 2024. Like the 2024 Maxima Redesign, Release date, Pros & Cons, Price and Trims, Interior design, Engine, Power, Performance, fuel economy, and other important information. We hope this article will be helpful for you. If yes, You must share this article with your friends and family. Thank you.
FAQs- The New 2024 Nissan Maxima
Will there be a 2024 Nissan Maxima?
Right Now, Nissan has not confirmed anything that it will be for the 2024 Model year or not. But according to reports, The Nissan Maxima will take a gap for the 2024 Model year. So we don't think that The Maxima will be for 2024 MY.
Is Nissan bringing back the Maxima?
Yes, According to the Carandriver, The next-generation Nissan Maxima is on the way for the 2025 Model year with a completely new design and specs.
Which are the top rivals of the Nissan Maxima?
The Top Rivals of the Nissan Maxima are Toyota Crown, Volkswagen Arteon, and Dodge Charger.
Juan Vasquez, or "juantio," is an Automotive Engineer from Brooklyn with over seven years at Standard Motor Products. He's also the Chief Editor at SUV Bazar. An active member of the SMP Softball team, Juan is affiliated with giants like Siemens and Google. He's currently seeking new opportunities in automation engineering.