2025 Nissan Rogue: Release Date, Price & Specs
The 2025 Nissan Rogue is a compact crossover SUV that holds a distinguished status as one of Nissan's most sought-after models and a formidable contender within the compact SUV category. This forthcoming iteration of the Nissan Rogue will flaunt a contemporary and stylish exterior design, showcasing Nissan's iconic V-motion grille and eye-catching boomerang-shaped LED daytime running lights.
Inside, a capacious and inviting cabin awaits, providing comfortable seating for up to five passengers. The next-generation Rogue is set to incorporate a user-friendly infotainment system with a touchscreen display, boasting comprehensive compatibility with Apple CarPlay and Android Auto across most trim levels. Furthermore, an array of premium amenities will grace the Rogue, encompassing a panoramic sunroof, opulent leather upholstery, heated seats, and an immersive Bose audio system.
Safety enhancements abound as well, with the next Rogue featuring a comprehensive suite of advanced safety features such as automatic emergency braking, blind-spot monitoring, rear cross-traffic alert, lane departure warning, and more. For those in need of ample cargo space, the upcoming Rogue will provide a generous cargo area, expandable by folding down the rear seats, rendering it a pragmatic choice for those with sizable cargo needs.
For an in-depth exploration of the 2025 Rogue, continue reading this article to gain insight into its release date, pricing details, available trim options, features, safety specifications, and more.
2025 Nissan Rogue Redesign
The Nissan Rogue made its debut back in 2007 as a 2008 model-year vehicle, initially equipped with a 2.5-liter four-cylinder engine. It provided customers with the option of front-wheel drive (FWD) or all-wheel drive (AWD) configurations.
Moving on to its second generation, the 2014 model year saw the introduction of the revamped Nissan Rogue. Then, in 2020, a third-generation version of the Nissan Rogue was unveiled for the 2021 model year. This iteration featured updated aesthetics, enhanced technological capabilities, and an expanded array of safety features. It currently stands as the latest iteration of the Nissan Rogue and carries over into the subsequent model year with minimal alterations.
However, Nissan Motors is gearing up to introduce the forthcoming Nissan Rogue in the 2025 model year. While the company has remained tight-lipped about the specifics of its design, automotive news outlets suggest that this Next Nissan Rogue will undergo a comprehensive redesign, breathing new life into the model. Given that the last significant update occurred in 2020, albeit with minor design tweaks and feature additions, anticipation mounts for a thorough refresh encompassing fresh exterior aesthetics and enhanced features in the 2025 model year. Should Nissan release any further details about the 2025 Rogue, rest assured we will promptly update this article to keep you informed.
2025 Nissan Rogue Release Date
If you are searching to know about the new Nissan Rogue 2025 Release date, then it is important to note that Nissan Motors has not officially announced a release date. Nevertheless, as per several media reports, there is speculation that the next Nissan Rogue may hit the market sometime in 2024. However, there is no confirmed date for bookings yet. Since the 2025 model is set for a comprehensive refresh, the release date could potentially be subject to change. If Nissan provides any updates regarding the release date of the 2025 Rogue, rest assured that we will promptly share that information here.
2025 Nissan Rogue Price
As of now, the company has not disclosed the pricing details for the upcoming Nissan Rogue 2025. However, for the 2024 Nissan Rogue, it was introduced in four distinct trims, each starting at a price range between $30,000 and $39,500.
It is plausible to anticipate that the 2025 model year will maintain a similar trim lineup to the 2024 version, although there may be a slight price increase. This expectation arises from the likelihood of a comprehensive refresh for the 2025 model year. Currently, we have projected our anticipated pricing for the 2025 model year, as outlined in the table below. We will promptly update this information with the exact pricing once it is officially confirmed by the company.
| | |
| --- | --- |
| Trims | Price (est.) |
| S | $30,000 |
| SV | $32,000 |
| SL | $36,000 |
| Platinum | $40,000 |
New Nissan Rogue 2025 Price
2025 Nissan Rogue Interior Design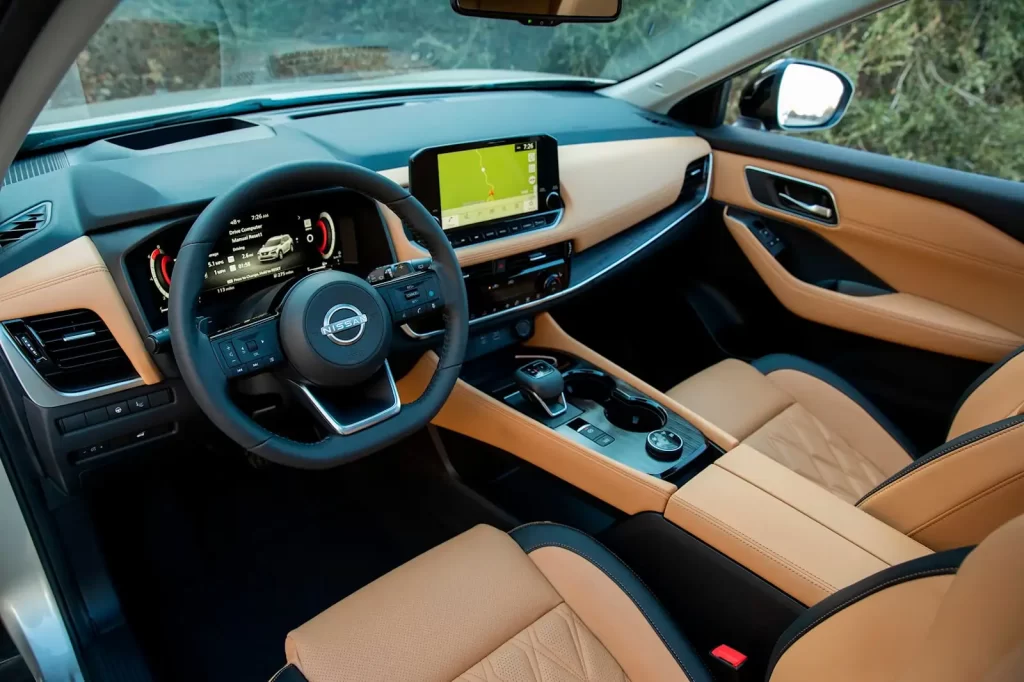 The upcoming Nissan Rogue boasts an intelligently crafted interior aimed at delivering a comfortable and user-friendly driving experience for both drivers and passengers. In the 2025 Rogue, you'll find roomy accommodations for up to five occupants. The front seats are thoughtfully designed with plush cushioning and excellent support, intended to minimize fatigue during extended journeys.
Higher-tier trims frequently offer power-adjustable seats with lumbar support, allowing drivers to achieve their perfect seating configuration. Nissan has placed significant emphasis on the interior's materials and construction quality for the 2024 Rogue, incorporating soft-touch surfaces on the dashboard and door panels to impart a sense of luxury. In upscale trims, you can indulge in the opulence of leather upholstery and premium materials.
The 2025 Rogue is renowned for its adaptability in terms of cargo space. The rear seats can be conveniently folded flat, creating an expansive and level loading surface, facilitating the transport of various types of cargo. On select trims, you'll find the optional Divide-N-Hide cargo system, replete with adjustable shelves and concealed compartments, to aid in organization and expand storage capabilities. At the heart of the Rogue's interior is the NissanConnect infotainment system, typically featuring a touchscreen display in the base trim.
Many versions of the 2025 Rogue come equipped with dual-zone automatic climate control in higher trims, permitting independent temperature settings for the driver and front passenger, ensuring everyone's comfort. The steering wheel in the 2025 Rogue is frequently equipped with controls for various functions such as audio, cruise control, and phone connectivity, allowing drivers to make adjustments while keeping their hands on the wheel.
Read Next- The 2025 BMW X6 Price, Specs, Release Date and Features.
2025 Nissan Rogue Features
It is anticipated a comprehensive refresh for the 2025 model year, we look forward to an enhanced Nissan Rogue with a slew of exciting features surpassing its predecessor. While precise details remain undisclosed, we've outlined some potential inclusions for the upcoming Rogue:
NissanConnect Infotainment System
Seamless Integration with Apple CarPlay and Android Auto
Remote Engine Start Capability
Wireless Charging Convenience
Voice-Activated Assistant
Versatile Multiple Drive Modes
Nissan Door-to-Door Navigation
Bluetooth Connectivity
Convenient USB Ports
Modern Digital Instrument Cluster
Enjoy SiriusXM Satellite Radio
Guided Assistance
NissanConnect Services
On-the-Go Wi-Fi Hotspot
Intuitive Voice Recognition
ProPilot Assistance System
Advanced Surround View Monitor
Immerse in Bose Premium Audio Excellence
2025 Nissan Rogue Safety Features
We anticipate that Nissan Motors will introduce the 2025 Rogue with an array of safety features and cutting-edge technologies, prioritizing the well-being of both drivers and passengers. Our expectations for safety enhancements in the 2025 Rogue encompass:
Nissan Safety Shield 360
Pedestrian Detection
Automatic Emergency Braking
Rear Automatic Braking
High Beam Assist
Intelligent Cruise Control
ProPilot Assistance System
Traffic Sign Recognition
Rearview Camera
Blind Spot Warning
Lane Departure Warning
Intelligent Lane Intervention
Zone Body Construction
Advanced Airbag System
Rear Cross-Traffic Alert
Tire Pressure Monitoring System
Read Next– You Need To Know Everything About the 2025 Lincoln Nautilus.
2025 Nissan Rogue Specs
| | |
| --- | --- |
| Trim | SV |
| Model Year | 2025 |
| Body Type | Crossover-SUV |
| No. of Doors | Four-Doors |
| No. of Rows | Two-Rows |
| Seating Capacity | Five-Passengers |
| Towing Capacity | N/A |
| Fuel Tank Capacity | N/A |
| Full Tank Fuel Range | N/A |
| Engine | N/A |
| Power | N/A |
| Torque | N/A |
| Transmission | N/A |
| Drivetrain | N/A |
| Acceleration (0-60 MPH) | N/A |
| Top-Speed | N/A |
| Fuel Economy | N/A |
| Official Website | www.nissanusa.com |
2025 Nissan Rogue Dimensions
| | |
| --- | --- |
| Length | N/A |
| Width | N/A |
| Height | N/A |
| Wheelbase | N/A |
| Ground-Clearance | N/A |
| Curb-Weight | N/A |
Interior Dimensions
| | |
| --- | --- |
| Head-Room (Front/ Rear) | N/A |
| Leg-Room (Front/ Rear) | N/A |
| Shoulder-Room (Front/ Rear) | N/A |
| Hip-Room (Front/ Rear) | N/A |
| Passenger-Volume | N/A |
| Cargo-Volume | N/A |
Conclusion
Dear Readers, this comprehensive article provides all the essential details about the upcoming 2025 Nissan Rogue, including its release date, pricing, trim options, redesign, connectivity features, safety enhancements, interior, and more, to ensure you're well-informed.
We trust that you'll find this article valuable. If it proves useful to you, we encourage you to share it with your friends and family. Thank you for your attention and interest.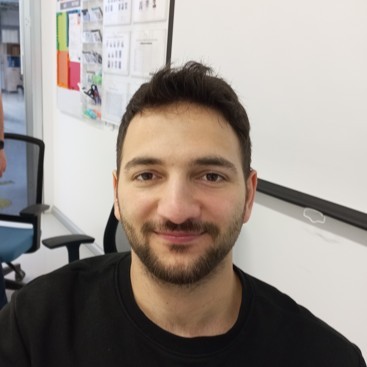 Umut Karanfil is a dedicated Design Engineer at Ford Motor Company, based in Istanbul, Turkey. A graduate of İstanbul Teknik Üniversitesi, he boasts expertise in 3D modeling, mechanical design, and structural analysis. With a strong background in the Tier 1 automotive industry, Umut has participated in international projects and has hands-on experience in manufacturing feasibility.