2025 Polestar 4: Release Date, Price & Specs
The upcoming 2025 Polestar 4 represents a compact luxury SUV crafted by Swedish automaker Volvo Cars, operating under the prestigious Polestar brand since 2023. It stands out as a sleeker and more sporty iteration of the Polestar 3 SUV, notably characterized by its coupe-like appearance. One distinctive feature is the Polestar 4's rear design, featuring a sloping rear end and a unique taillamp arrangement compared to the Polestar 3. A notable departure from convention is the absence of a rear window, replaced instead by a digital rearview mirror, potentially raising concerns regarding blind spots.
Polestar explains that the removal of the rear window in the Polestar 4 offers designers the opportunity to extend the rear seats backward, promising a "more immersive experience" for passengers. However, the available rear-seat space hints at a luxury crossover feel. Nonetheless, the interior of the next Polestar 4 will exude a pleasant and minimalist aesthetic. Buyers will have the option to customize the interior with materials such as vinyl, Nappa leather, or a sustainable woven fabric crafted from recycled plastic.
For a comprehensive understanding of the 2025 Polestar 4, we encourage you to peruse this article in its entirety. It covers essential aspects such as the release date, pricing, trim options, features, safety enhancements, and more, ensuring you're well-informed about this intriguing vehicle.
2025 Polestar 4 Redesign
The 2025 Polestar 4 represents a harmonious fusion of contemporary aesthetics and sustainable innovation. Its sleek, aerodynamic silhouette not only showcases its electric capabilities but also embodies a balance of fluid lines and a dynamic posture that seamlessly blends sportiness with elegance.
At the front, the Polestar 4 boasts a distinctive illuminated grille that not only enhances its visual allure but also functions as a versatile communication platform, displaying various messages and indicators. The integrated LED headlights offer exceptional visibility while contributing a futuristic touch to the overall design.
Transitioning towards the rear, the vehicle's roofline gracefully descends into a sculpted tailgate, crafting a coupe-like profile that harmonizes aesthetics with aerodynamic efficiency. The state-of-the-art LED taillights wrap around the rear, forming a distinctive light signature that instantly captures attention.
Throughout its design, the 2025 Polestar 4 adheres to environmentally conscious principles, incorporating sustainable materials in both its interior and exterior. This visionary design approach, coupled with its electric powertrain, signifies a step forward towards a greener automotive future. We hope you'll appreciate the blend of style and sustainability embodied by the upcoming Polestar 4.
2025 Polestar 4 Release Date
If you are curious to know about the release date of the Polestar 4 2025, we would like to inform you that the company has not provided precise information regarding its release date. Nevertheless, according to reports, there's speculation that the upcoming Polestar 4 could potentially debut by the conclusion of 2024, with availability in the automotive market anticipated for 2025. It's worth noting that the initial release of the Polestar 4 is expected to be limited to select countries, such as China and the United States. Rest assured, as soon as the company unveils the exact release date details, we will promptly update this information here.
2025 Polestar 4 Price
The 2025 Polestar 4 is expected to begin at an approximate starting price ranging from $60,000 to $80,000, positioning it as a compelling contender in the electric vehicle market. Polestar's objective is to deliver a premium electric car experience that remains accessible to a broad spectrum of consumers. While the ultimate cost may fluctuate based on optional features and individual customizations, this pricing strategy ensures that the Polestar 4 offers excellent value for your investment.
| | |
| --- | --- |
| Trims | Price (est.) |
| Single Motor | $60,000 |
| Dual Motor | $80,000 |
New Polestar 4 2025 Price
2025 Polestar 4 Interior Design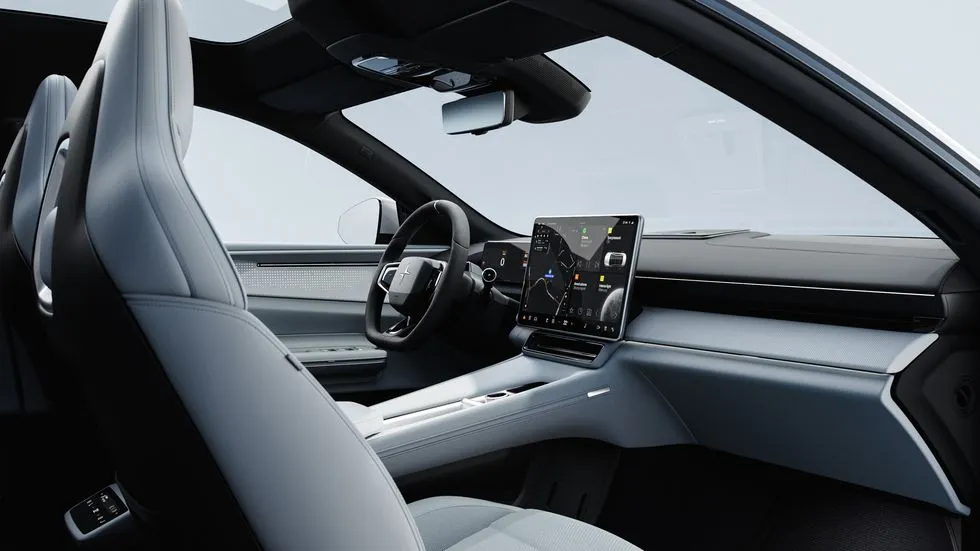 Regarding the interior of the Polestar 4, it reflects the brand's commitment to luxury and sustainability. Sustainable materials are at the forefront, including recycled woven fabric, Microtek vinyl, and what Polestar refers to as "animal welfare-safe" Nappa leather. Following the trend of premium electric vehicles, the interior adopts a minimalist design philosophy characterized by clean lines and a generous expanse of digital screens. Specifically, you can expect an infotainment screen and a digital gauge cluster.
Polestar Motors emphasizes the celebration of rear-seat comfort and experience in the Polestar 4, implying generous rear headroom and legroom. This is a distinguishing feature, especially for SUV coupes where such space can often be limited. However, it's important to note that cargo space may not be as expansive as boxier SUVs of similar size.
As a standard feature, the Polestar 4 integrates Google's ecosystem, allowing users familiar with Google to seamlessly access functions like Google Maps, Google Assistant, and Google Play. Apple users are also catered to, with CarPlay being offered as a standard feature. To ensure that the vehicle remains up-to-date with the latest features and functionality, Acme over-the-air updates will be regularly applied.
Read Next- Know About the 2024 Audi A6 e-Tron.
2025 Polestar 4 EV, Motor, Power
The base configuration features a single 272-horsepower electric motor that propels the rear wheels, while the dual-motor variant of the Polestar 4 delivers all-wheel drive with a robust 544 horsepower. According to Polestar, the higher-powered model can accelerate from 0 to 62 mph in a mere 3.8 seconds. As for the chassis, while an adaptive suspension system comes standard with the dual-motor powertrain, Polestar has yet to release further details about the 4's overall handling and performance characteristics. Once we have the opportunity to take it for a spin, we'll provide updated insights on the driving experience.
2025 Polestar 4 Features
The upcoming Polestar 4 promises an array of remarkable features, seamlessly integrating cutting-edge technology and sustainable innovations. These highlights encompass an extended-range electric powertrain, advanced driver-assistance systems, and a cutting-edge infotainment system boasting user-friendly controls. Furthermore, the car boasts an attention-grabbing dynamic LED grille, intelligent headlights, and a distinctive lighting design. Centered on performance, sustainability, and connectivity, the Polestar 4 stands as a harbinger of the future of electric mobility. Here are the some important Key features of the Polestar 4:-
An infotainment system powered by Google
A spacious infotainment display
Google Assistant for seamless voice commands
Google Maps for navigation
A digital gauge display
A premium Harman/Kardon Stereo System
Compatibility with Apple CarPlay
A full-length glass roof for a panoramic view
Sleek and modern styling
Supervision Advanced Driver Assistance System for enhanced safety
Utilization of durable materials for longevity
Roof-mounted rear camera for added convenience
2025 Polestar 4 Safety Features
The new Polestar 4 comes generously equipped with a comprehensive suite of standard safety features. These encompass hands-free driving technology, pedestrian detection, automatic emergency braking, driver monitoring cameras, and rear cross-traffic alert. Additionally, the vehicle boasts adaptive cruise control and an array of advanced safety components, including:
Automatic emergency braking
Transaction assistance
Lane departure warning
Hands-free driving mode
Adaptive cruise control
Rear Cross-Traffic Alert
Hands-free driving technology
Pedestrian detection
Adaptive Cruise Control
A surround-view parking camera
The Supervision Advanced Driver Assistance System
A robust system comprising nine airbags
Twelve cameras for enhanced visibility
Twelve ultrasonic sensors for precise awareness
Radar system for added safety measures
A driver surveillance camera
Read Next- You Need To Know Everything About the 2025 Chevy Equinox SUV.
2025 Polestar 4 Specs
| | |
| --- | --- |
| Trim | Dual Motor |
| Model Year | 2025 |
| Body Type | SUV |
| No. of Doors | Four-Doors |
| No. of Rows | Two-Rows |
| Seating Capacity | Five-Passengers |
| Battery Capacity | N/A |
| Electric Range | N/A |
| Charging Time | N/A |
| Engine Power | N/A |
| Power | N/A |
| Torque | N/A |
| Transmission | N/A |
| Drivetrain | N/A |
| Acceleration (0-60 MPH) | N/A |
| Top-Speed | N/A |
| Official Website | www.polestar.com |
| Go to Home Page | SuvBazar.com |
Exterior Dimension
| | |
| --- | --- |
| Length | N/A |
| Width | N/A |
| Height | N/A |
| Wheelbase | N/A |
| Ground-Clearance | N/A |
| Curb-Weight | N/A |
Interior Dimensions
| | |
| --- | --- |
| Head-Room (Front/ Rear) | N/A |
| Leg-Room (Front/ Rear) | N/A |
| Shoulder-Room (Front/ Rear) | N/A |
| Hip-Room (Front/ Rear) | N/A |
| Passenger-Volume | N/A |
| Cargo-Volume | N/A |
Conclusion
Hello Everyone, this article provides comprehensive insights into the upcoming 2025 Polestar 4, covering essential details such as its release date, pricing, available trims, redesign, connectivity features, safety enhancements, interior highlights, and more.
We trust that you will find this article informative and valuable. If it proves to be helpful to you, we kindly encourage you to share it with your friends and family. Your support is greatly appreciated. Thank you.
Kadir Durgun is a Mechatronics Engineer based in Istanbul, Turkey, with expertise in automotive electronics and engineering. He holds a degree in Mechatronics, Robotics, and Automation Engineering from Yıldız Teknik Üniversitesi.