2023 Acura Integra: Price, Specs, Features, Pros & Cons, Know Everything
2023 Acura Integra: The Acura Integra comes back for the 2023 model year with an improved design. This new Integra has many features similar to the Honda Civic Si, much like the previous model, but it also has a few advantages.
The Integra is exciting to drive and has a somewhat more upscale presence than the Civic, but it lacks some of the luxury features offered by competitors like the Audi A3 and the Mercedes-Benz CLA class.
You'll enjoy its ride, and its engine has a lot of power. The cabin has simple features and a sizable cargo room, but some competitors in the same class are more elegant.
Here is all the information we currently have about the 2023 Acura Integra.
Also Check – 2023 Acura MDX | Features | Range | Price | Everything You Should Know
---
The 2023 Acura Integra Overview
The Integra shares a lot of similarities with the Honda Civic upon which it is built, which is fantastic. The compact Acura features the same engine as the Civic Si, together with smart dampers, available adaptive suspension, a somewhat stiffer body structure, and a practical hatchback cargo compartment.
It provides the greatest features of Honda's compact sedan along with a bit extra flare. We noted the more natural engine sound, precise manual transmission, and a pleasurable around-town driving experience unsurpassed by the Acura's rivals on our first drive.
Nevertheless, the tires loudly protest long before the chassis would buckle; this platform is capable of much more grip.
2023 Acura Integra Pros & Cons
Pros
Satisfying Driving around town
Six-Speed Manual option
usable hatchback Cargo Area
Basic Info
| | |
| --- | --- |
| Type: | Front-engine, front-wheel-drive |
| Passenger's: | 5 |
| Engine: | Turbocharged and intercooled DOHC 16-valve inline-4 |
| Displacement: | 91 in3, 1498 cm3 |
| Power: | 200 hp @ 6000 rpm |
| Torque: | 192 lb-ft @ 1800 rpm |
| Transmission: | 6-speed manual |
| Wheelbase: | 107.7 in |
| Length: | 185.8 in |
| Width: | 72.0 in |
| Height: | 55.5 in |
| Passenger Volume: | 96 ft3 |
| Cargo Volume: | 24 ft3 |
| Curb Weight: | 3062 lb |
2023 Acura Integra Price
The starting price of the 2023 Acura Integra is $30,800, one of the lowest in its class. The price increases to $32,800 when the A-Spec package is added.
| | |
| --- | --- |
| Trims | Price |
| Base | $31,895 |
| A-Spec | $33,895 |
| A-Spec Technology | $36,895 |
2023 Acura Integra Price
2023 Acura Integra Release Date
The 2023 Integra will eventually reach dealers in the spring of 2022 after six years of planning by Acura for a new Integra.
now Acura Integra is available for 2023. it means now you will be able to order your new Acura Integra 2023. to Order your new Acura Integra visit on Acura's official website or nearby your Acura Showroom.
Also Check – 2023 Ford F-150 Raptor R Review | Price | Specs | Know Everything
---
2023 Acura Integra Interior
The 11th-generation Honda Civic and the 2023 Integra both feature the same interior design. The Civic's high-quality materials and unquestionably appealing design were mostly carried over by Acura.
Nevertheless, leatherette surfaces are included in the Technology package as standard equipment, along with microsuede inserts.
Standard driver seats have eight power adjustments, but the Technology package ups that to a 12-way seat with lumbar support and a four-way power seat for the passenger.
Red gauge needles, contrast stitching, and stainless steel pedals are included in Acura's stylish A-Spec aesthetic package for the Integra. Throughout the entire lineup, heated seats are a given.
A well-designed cabin is also present. In order to set itself apart from Honda's systems, Acura uses better interior materials in comparison to those found in the Civic Si, as well as fonts and graphics that are exclusive to Acura.
Even though the Integra has a profile that is more resembling of a four-door coupe, the hatchback cargo area is larger than in a comparable sedan.
Even while some ardent Integra aficionados may be upset about the turbocharged engine and absence of pop-up headlights, Acura's updated version of the iconic car is a well-rounded, upscale-feeling, approachable car that surpasses the half-baked subcompacts from rival luxury companies.
Also Check – The 2023 Toyota Tacoma | Price | Features | Release Date | Everything You Should Know
---
2023 Acura Integra Specs
All Integra models come standard with a 10.2-inch digital gauge display that the driver can customize. Both the 7.0-inch and 9.0-inch infotainment displays that come standard on the Integra do away with the annoying touchpad controller that is present on other Acura models.
The larger touch screen is a part of the Technology package for A-Spec cars, which also includes three USB-C charging outlets dispersed throughout the interior, a 5.3-inch head-up display, and a wireless Smartphone charging pad.
Apple CarPlay and Android Auto are standard on all models; however wireless connectivity for those functions is only available in vehicles with the Technology package. The stereo system comes with eight speakers as standard, but an ELS Studio 3D premium stereo system with 16 speakers is also offered.
Also Check – the 2024 Toyota bZ5X: Review, Price, Release Date, Specs, Know Everything
---
2023 Acura Integra Performance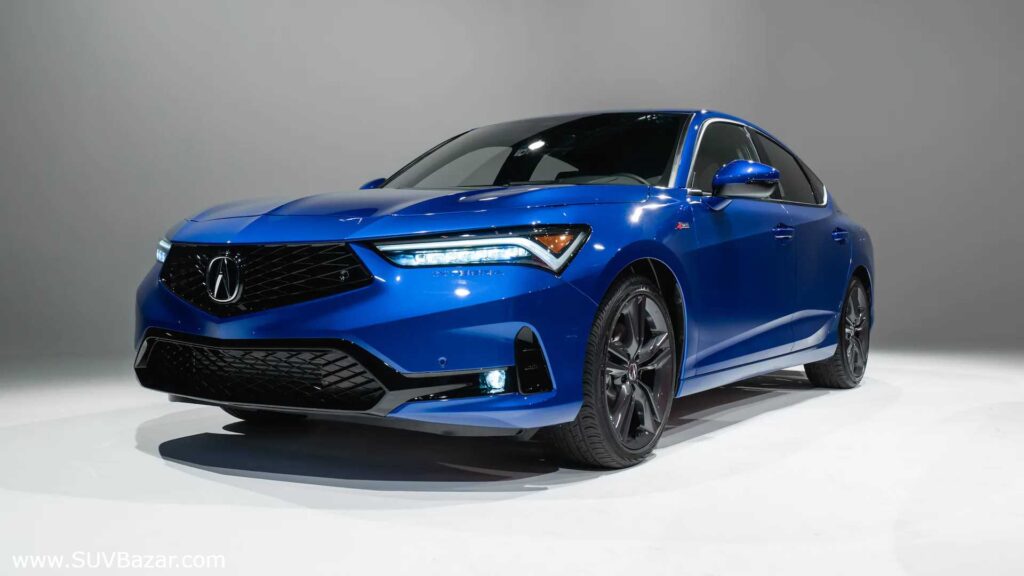 The 2023 Integra is powered by a 1.5-liter inline-four turbocharged engine that generates 200 horsepower and 192 lb-ft of torque. It is available with FWD and a regular CVT that, according to Acura, has been sport-tuned.
When the Technology package is added, the sporty A-Spec level comes with a six-speed manual transmission. The 2023 Integra has a solid starting point because it is built on the same basis as the brand-new (and superb) 2022 Honda Civic.
If a hybrid ever enters the lineup, it might resemble an Integra Type S model. An electric Integra wouldn't only be about efficiency; a hybrid can provide a sporty compact just the right type of kick that drivers will value as they pull away from a stoplight.
2023 Acura Integra Type R
By 2024, the Integra Type R will be added to the lineup, according to Acura.
2023 Acura Integra Type S
The 2.0-liter turbocharged inline-four from the Honda Civic Type R will power the 2023 Acura Integra Type S.
2023 Acura Integra Hp
A 1.5-liter turbocharged four-cylinder engine with 200 horsepower powers the new Integra.
2023 Acura Integra 0-60
In 7.0 seconds, the six-speed manual A-Spec test car reached 60 mph.
2023 Acura Integra A-Spec
Drivers of the Integra can save a personalized configuration by using the Individual drive mode that the A-Spec model adds to the drive-mode selector switch.
---
2023 Acura Integra Fuel Economy
The base Integra with the CVT, which has EPA ratings of 30 mpg in the city and 37 mpg on the highway, is the most economical model available.
The Integra will be able to compete against its main rival, the Audi A3, which is rated for 29 mpg city and 38 mpg highway, thanks to such ratings.
The estimated fuel efficiency drops to 26 mpg city and 36 mpg highway when you upgrade to the A-Spec specification with the manual transmission.
Also Check – The 2023 Nissan Z | Release Date | Price | Features
---
Watch the Promo of the 2023 Acura Integra
---
2023 Acura Integra FAQs
How much will the 2023 Acura Integra cost?
The starting price of the 2023 Acura Integra is $30,800, one of the lowest in its class. The price increases to $32,800 when the A-Spec package is added. The starting price of an Integra with the A-Spec with Technology package is $35,800.
When can I buy the 2023 Integra?
New and completely redesigned for 2023, Acura's revived Integra is scheduled to go on sale in June 2022.
Will the 2023 Acura Integra have a coupe?
The new Integra manages to blend a coupe-like design with unexpected flexibility.
How much will the Acura Integra 2022 cost?
The starting price of the 2022 Acura Integra is $37,500.
Will there be a 2023 Integra Type S?
According to Acura's official future product roadmap, a new Type S compact sedan will be on sale in 2022.
---
Final Verdict:
In this article, we have known about the new Acura Integra. like the 2023 Acura Integra Review, Pros & Cons, Price, Release date, Specifications, Fuel economy, Engine, Power, Performance, and other important information. which you should know. we hope this article will be helpful for you. if yes, then must share it with your friends and family thank you.
Juan Vasquez, or "juantio," is an Automotive Engineer from Brooklyn with over seven years at Standard Motor Products. He's also the Chief Editor at SUV Bazar. An active member of the SMP Softball team, Juan is affiliated with giants like Siemens and Google. He's currently seeking new opportunities in automation engineering.