2023 Toyota bZ4X Price, Specs, Features, Pros & Cons, Know Everything
Toyota manufactured the brand new battery-powered Toyota bZ4X, a small crossover SUV. The car had its official premiere as the "bZ4X Concept" in April 2021.
It is the first car built on the e-TNGA platform, which Toyota and Subaru jointly developed, and the first model of the company's Toyota bZ ("beyond Zero") line of zero-emissions vehicles.
The 2023 bZ4X crossover, which stands out from Toyota's gasoline-powered SUVs with its edgy style, is Toyota's preparation to reenter the electric car market.
The bZ4X is sold at Toyota dealerships nationwide, unlike the company's previous all-electric model, the RAV4 EV.
Both a front-wheel-drive and an all-wheel-drive version are available, with the former providing up to 252 miles of range per charge.
The bZ4X has joined a growing group of non-luxury EV SUVs, including the Volkswagen ID.4, Hyundai Kona Electric, Ford Mustang Mach E, Chevrolet Bolt EUV, Kia Niro EV, Tesla Model Y, and Hyundai Kona Electric.
Unfortunately, though, it's real-world highway range in our testing places it at the back of the pack.
Here is all the information we currently have about the 2024 Toyota bz4x.
Also Read – 2024 Toyota Prius Release Date | Price | other important information
---
The Toyota bz4x Review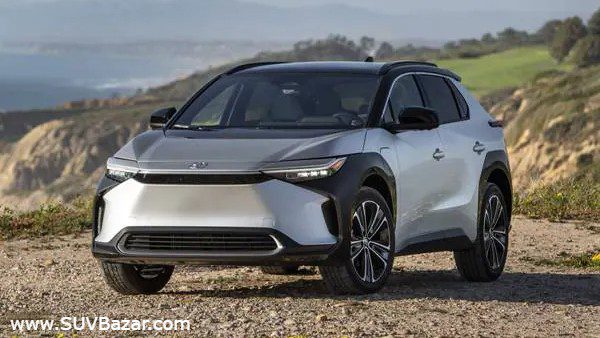 the new Toyota bZ4x is the first and all-new nameplate for Toyota which will come with a fully electric powertrain. and also it will give a long electric range of over 252 miles on a single name. and also it is built on the brand's new e-TNGA platform, on which Toyota makes electric vehicles. and this platform provides outstanding performance and comfortable rides.
2023 Toyota bZ4X Pros & Cons
Pros
a comfortable cabin
Several basic connectivity features
Quick acceleration
Cons
The real-world range is poor
All-wheel drive is more expensive
Regenerative braking isn't severe enough to allow one-pedal driving
BASIC INFO
| | |
| --- | --- |
| Vehicle Type: | front- and mid-motor, all-wheel-drive |
| Model Name: | BZ4X |
| Passenger: | 5 |
| Door: | 4 Wagon |
POWERTRAIN
| | |
| --- | --- |
| Front Motor: | permanent-magnet synchronous AC, 107 hp, 124 lb-ft |
| Rear Motor: | permanent-magnet synchronous AC, 107 hp, 124 lb-ft |
| Combined Power: | 214 hp |
| Combined Torque: | 248 lb-ft |
| Battery Pack: | liquid-cooled lithium-ion, 65.6 kWh |
| Onboard Charger: | 6.6 kW |
| Transmissions, F/R: | direct-drive |
DIMENSIONS
| | |
| --- | --- |
| Wheelbase: | 112.2 in |
| Length: | 184.6 in |
| Width: | 73.2 in |
| Height: | 65.0 in |
| Passenger Volume: | 94 ft3 |
| Cargo Volume: | 26 ft3 |
| Curb Weight: | 4514 lb |
FUEL ECONOMY
| | |
| --- | --- |
| Observed: | 76 MPGe |
| 75-mph Highway Driving: | 86 MPGe |
| Highway Range: | 160 mi |
| Combined/City/Highway: | 112/92/102 MPGe |
| electric-Range: | 252 miles |
In terms of size, the bZ4X is comparable to the RAV4, and it is not Toyota's first fully electric car.
In California, an all-electric RAV4 was offered for sale as a compliance car from 1997 to 2003.
Toyota will make the bZ4X available in all 50 states, but it only intends to sell 7,000 of them as 2023 models this year.
Also Check – 2023 Acura MDX | Features | Range | Price | Everything You Should Know
---
Toyota bz4x Price
The bZ4X has now been officially introduced by Toyota, the new Toyota bZ4x 2023 is offered in two trims and both trims come with front-wheel drive and all-wheel drive drivetrain. in which its base trims price starts at $42,000. Here are all of the new Toyota bZ4X's costs based on the performance package:
| | |
| --- | --- |
| Trims | Price |
| XLE FWD | $42,000 |
| XLE AWD | $44,080 |
| Limited FWD | $46,700 |
| Limited AWD | $48,780 |
2023 Toyota bZ4x Price
Toyota Bz4x Price In India
Regarding the cost of the Toyota bz4x in India, it is estimated that it will cost 35,83,142 INR.
Toyota bz4x Release date
the new 2023 Toyota bZ4x has been launched and now it is available to order. now you will be able to order your new Toyota bZ4x for the 2023 Model year. to order your new bZ4x electric SUV you can go to Toyota's official website or your nearby Toyota showroom.
Toyota Bz4x Pre Order
You can visit Toyota's official site to pre-order your brand-new Toyota bz4x.
---
Toyota bz4x Interior and Cargo
The bZ4X's interior is huge and spacious, and the dashboard features a 12.3-inch touchscreen in the center and a digital gauge display.
Standard features include wireless smartphone mirroring and navigation, which is free for the first three years and then requires a subscription after that.
There is no glovebox, but the broad center console between the two front seats has open storage underneath and standard wireless smartphone charging.
A radiant heating element that heats the legs of passengers in the front seats is an optional feature in the Limited.
Additionally, the rear cargo area is 26 to 28 cubic feet and there is no trunk (versus 38 for the RAV4).
The steering wheel is like a vehicle from Blade Runner and the instrument panel is located in a pod above the rest of the dashboard.
Anyone who has ever bought a Prius won't likely find either of them to be all that strange.
But as long as they don't bring too much luggage, it would be roomy enough for a family of four.
The cargo area is only marginally functional, at least for an SUV, despite the back seat being reasonably spacious for adults.
Two Yeti coolers, which each hold around 30 liters, took up a sizable portion of the cargo area.
Also Read – 2024 Toyota bZ3X | Price | Release Date | Features | Everything You Should Know
---
Toyota bz4x Performance
A front-wheel-drive, single-motor system with 201 horsepower is standard. Although the all-wheel-drive model has two motors, the power only slightly rises to 215 horsepower.
That is significantly less than the all-wheel-drive Hyundai Ioniq 5's (295 horsepower) or ID.4's (295 horsepower) (320 hp).
Both the front-wheel drive and all-wheel drive models showed brisk acceleration during our initial test drive, but you shouldn't anticipate beating any Teslas in a drag race.
The bZ4X's steering has a decent amount of weighting, and the ride is comfortable over bumps without feeling too soft.
A button on the center console may be used to increase regenerative braking, but the bZ4X does not enable the real one-pedal drive, which we like in other EVs.
Toyota Bz4x Range
The FWD, single-motor model's EPA range estimates are 242/252 miles (Limited/XLE), whereas the all-wheel-drive model's estimates are 222/228 miles.
We were disappointed with a dual motor model's 160-mile driving range during testing.
The range pinch may not be as noticeable if you drive largely in cities, but this result is tied with the Nissan Leaf for the worst highway performance among EVs.
The 6.6-kW onboard charger can recharge the battery in 9 hours with a Level 2 supply.
Toyota claims that adding an additional 80 percent charge at a DC fast charger takes less than an hour, with peak charging speeds of 150 kW for front-drive vehicles and 100 kW for all-wheel-drive versions.
Toyota Bz4x Battery
The 63.4 kWh battery pack in the single-motor version and the 65.5 kWh pack in the dual-motor edition of the bZ4X powertrain are pretty much identical.
---
Toyota bz4x Features
A huge 12.3-inch infotainment touchscreen with wireless Apple CarPlay and Android Auto functionality and a 7.0-inch digital gauge display is standard on all bZ4X variants.
With cloud-based navigation, an onboard Wi-Fi hotspot, and wireless smartphone charging all included, the system is comparatively well-connected.
The Limited trim comes standard with a six-speaker audio with SiriusXM satellite radio, but purchasers can upgrade to a nine-speaker JBL stereo system for a higher price.
Also Read- Know about the 2024 Ford Explorer
---
Toyota bz4x Exterior
With a rakish rear hatch that almost appears more appropriate for a sedan than an SUV, sides that accentuate their wheel openings through black paint, and a front that makes little effort to hide the fact that it doesn't need a grille, the design is outgoing and flamboyant.
Until I caught sight of a new RAV4 going past in the same colorway, it seemed almost too strange for a usually conservative automaker like Toyota (white body with black fender flares).
Even though it has a slightly more conventional roofline, it has a strange appearance that is nearly identical to the bZ4x in a vacuum.
Also Check – 2024 GMC Hummer EV SUV | Price | Range | Features | Everything You Should Know
---
Watch the promo of Toyota bz4x
---
The 2023 Toyota bz4x FAQs
Is Toyota bZ4X available?
The 2023 Toyota bZ4X will go on sale in the US in Spring, according to Toyota.
Is Toyota bZ4X available in Japan?
The Japan market-spec bZ4X was announced in April 2022 and will go on sale on May 12, 2022.
When can I buy the Toyota bZ4X?
You can pre-order it from its official site when it is available in stock.
How much will the bZ4X cost in Canada?
It costs around $44,990 in Canada.
What is the range of bZ4X?
The FWD variant will have a 201 horsepower electric motor that produces 265 Nm and has a range of 516 km per charge rather than 500 km.
---
Final Verdict:
So guys this concludes our overview of the Toyota bz4x.
What are your thoughts on it? Please let us know by leaving a comment.
Juan Vasquez, or "juantio," is an Automotive Engineer from Brooklyn with over seven years at Standard Motor Products. He's also the Chief Editor at SUV Bazar. An active member of the SMP Softball team, Juan is affiliated with giants like Siemens and Google. He's currently seeking new opportunities in automation engineering.