2024 Hyundai Kona Revealed with new Bold Design
Hyundai has revealed the Hyundai Kona electric car, which will now be completely redesigned. The new Hyundai Kona will arrive for the 2024 model year, revealed by Hyundai.
The Hyundai Kona that first made its world debut in South Korea in 2017 is now all set to arrive in the United States as well for the 2024 model year, it has revealed. The new Hyundai Kona is set to come in four variants – Hybrid, Electric, Pure Combustion Powered, and N Line.
Read also- 2023 Hyundai Tucson Hybrid price and specs
The designers of Hyundai have designed the new Hyundai Kona very well as you can see in its photo. Hyundai's Designers first started by creating the Hyundai Kona Electric and have since created the design look for its other variants. The front shares a distinctive light strip along the edge of the hood and has its headlights below this strip at the outer corners.
The 2024 Hyundai Kona Electric features Pixel-like elements and shares some design features with the Hyundai Ioniq vehicles. And the standard ICE vehicle has a rectangular opening at this location which has been given a more aggressive look to the N Line using a turbojet element.
You Might also Like these stories-
From the side, all Hyundai Kona variants look similar. For instance, the hybrid and combustion-powered variants get body clipping on the fenders while the electric and N-line get this section painted body color. Along with this, a rear spoiler, silver side skirts, mirror caps, and black pieces for the roof are available in the N Line.
And the hatchback gets a mild bar stretch to match the rear. And like the headlights, the taillights are also in the lower corners. And the N line has dual exhaust outlets.
The new Kona EV will be longer and wider than the previous Kona Electric. As of now, the new 2024 Hyundai Kona Electric is 171.5 inches long, which is 5 inches longer than the previous model. 9 inches long. Along with this, its wheelbase and width also increase by 2.36 inches and 0.98 inches respectively.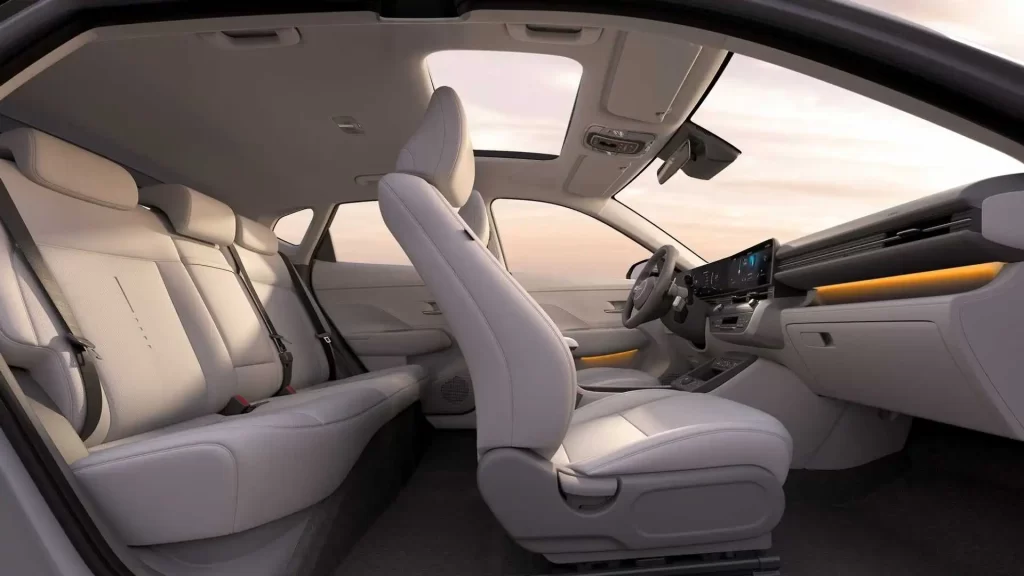 Along with this the new Hyundai Kona now comes with a bigger 12.3-inch screen which gives it an impressive design and looks on the inside. The nonshift is now on the pen behind the steering wheels. However, the company has not yet revealed the price and powertrains of its new 2024 Hyundai Kona. We will update this article as soon as Hyundai releases more details
Juan Vasquez, or "juantio," is an Automotive Engineer from Brooklyn with over seven years at Standard Motor Products. He's also the Chief Editor at SUV Bazar. An active member of the SMP Softball team, Juan is affiliated with giants like Siemens and Google. He's currently seeking new opportunities in automation engineering.