2024 Jeep Wagoneer S EV Revealed with a long-range
Jeep recently announced its complete electrification after which it made a lot of headlines. Jeep will launch four of its electric vehicles within the next few years. One of which also includes the Jeep Wagoneer S. The 2024 Jeep Wagoneer S is a fully electric mid-size SUV that was unveiled just a few days back. Whose production and sales will start in 2024.
Both the Jeep Wagoneer and the Grand Wagoneer are powered by the ICE platform which shares its name as a full-size SUV but is fundamentally different in marketing, styling as well as powertrain. The wagoneer s has a sporty flair with its aerodynamics. Which makes its design, speed, and sexy representation.
you might also like these articles-
A newly lit grille retains seven slits at the front. The grille is joined by slim full-width LED headlights beneath the Wagoneer lettering. This setup is somehow in keeping with the design language of Range Rover. The front bumper has a 'Stellantis' group feel in terms of styling, with triangular side intakes and a large central opening featuring silver or copper accents.
Moving on to the profile, large alloy wheels are filling out the boxy wheelbarrow that looks similar to other Jeep models. What sets it apart from the rest of the range is the sleek greenhouse with chrome accents that highlight the more inclined rear pillars. This is where the Wagoneer S's signature design element resides – a much larger rear wing, thanks to the offset created by the sloping rear windshield. The rear end exudes Range Rover Velar vibes, with full-width LED taillights and a sculpted tailgate.
We don't have any photos or renderings of the interior, but Jeep CEO Christian Meunier said it will offer users a premium experience with plenty of technology and "high-quality craftsmanship".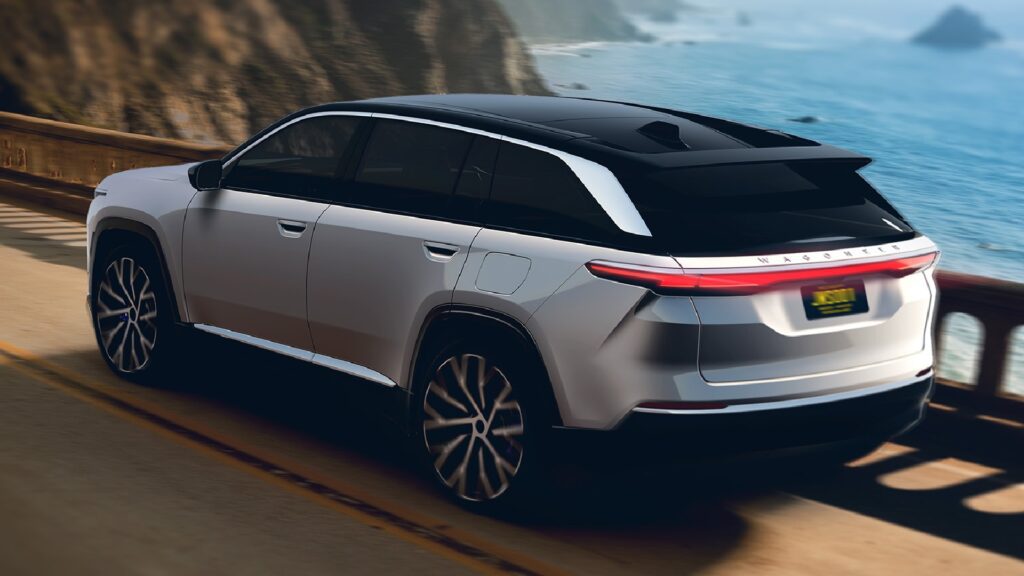 what will be the range of the 2024 jeep wagoneer ev
In terms of the electric powertrain, Jeep announced a targeted output of 600 hp (447 kW / 608 PS). That would be enough for a 0-60 mph (0-97 km/h) acceleration time of about 3.5 seconds, similar to the discontinued Hellcat-powered Jeep Grand Cherokee Trackhawk.
The SUV will come standard with 4×4 capability, most likely thanks to the dual electric motor setup. It will feature Jeep's all-terrain management system and brand-centric technology, which will ensure that it differentiates itself from other Stelantis products. Speaking of which, Jeep didn't say which architecture will underpin the EV-only Wagoneer S, but what it did say is that it's targeting a range of 400 miles (644 km).
We'll know more about the Jeep Wagoneer S in 2023 when it's detailed in its final production form. Not 100% sure about the Jeep name, that may change in the future. The first examples of the new EV will reach US dealerships in 2024, with other major markets including Europe to follow later.
People are also searching for the following terms related to the 2024 Jeep Wagoneer EV:
Jeep Wagoneer EV price
Jeep Wagoneer EV release date
Jeep Wagoneer EV range
Jeep Wagoneer EV horsepower
Jeep Wagoneer EV torque
Jeep Wagoneer EV 0-60 mph
Jeep Wagoneer EV towing capacity
Jeep Wagoneer EV off-road capability
Jeep Wagoneer EV interior
Jeep Wagoneer EV exterior
Jeep Wagoneer EV competitors
Jeep Wagoneer EV reviews
Jeep Wagoneer EV charging time
Jeep Wagoneer EV charging options
Jeep Wagoneer EV battery size
Jeep Wagoneer EV warranty
Jeep Wagoneer EV availability
Jeep Wagoneer EV features
Jeep Wagoneer EV safety
Jeep Wagoneer EV compared to the Tesla Model X
Jeep Wagoneer EV compared to the BMW iX
Jeep Wagoneer EV compared to the Rivian R1S
source- carscoops.com
Juan Vasquez, or "juantio," is an Automotive Engineer from Brooklyn with over seven years at Standard Motor Products. He's also the Chief Editor at SUV Bazar. An active member of the SMP Softball team, Juan is affiliated with giants like Siemens and Google. He's currently seeking new opportunities in automation engineering.